This extension highlights the given keywords in the description text of product, category, manufacturer, and information.
You can add as many keywords or phrases as you can and click on the generate button to see the keywords getting highlighted in your description text.
With this extension, you can easily grab the attention of the customer who is looking at your pages. Few studies also show that this has a positive effect on SEO.
Sample Demo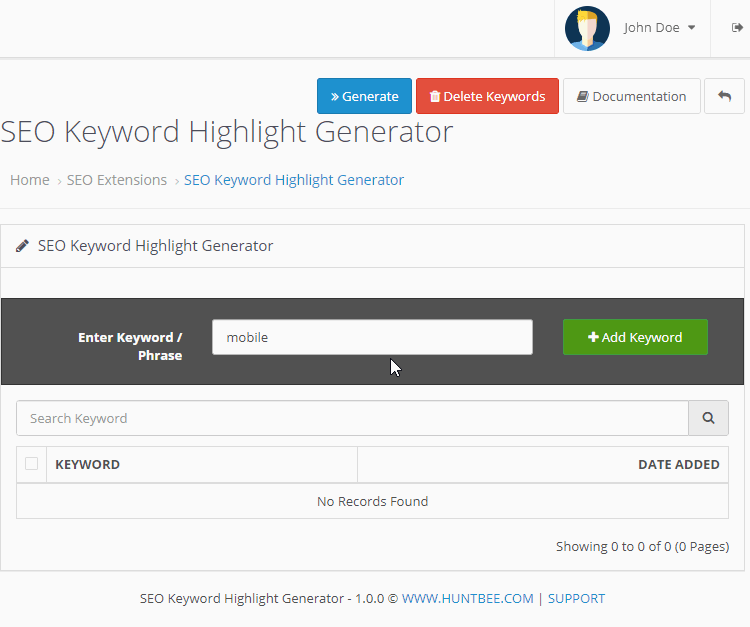 OPENCART
Compatibility
2.x.x.x, 3.x.x.x
Core Files Overwrite
No
Multi-store
Yes
Multi-lingual
Yes
TECHNOLOGIES
Framework
OpenCart
Languages
PHP, HTML, CSS, AJAX, JQUERY, JAVASCRIPT
The license to use extension is restricted to only one domain and its subdomain. If you want to use the extension in other domains you need to purchase another license (i.e., Purchase again)
After purchase, you need to activate the license by visiting https://www.huntbee.com/get-support. This is done to validate your authorization.
You cannot license, sub-license and resell our products
You cannot reuse any part of the code or logic or algorithm of this product anywhere else which doesn't satisfy the operation of this product as advertised.