This extension is an enhanced model of customer dashboard in the OpenCart Admin. The extension uses Ajax for filtering which makes the search or filter process much more easier and faster.
Along with the basic details, this extension offers customer reporting.
The extension also provides export to CSV.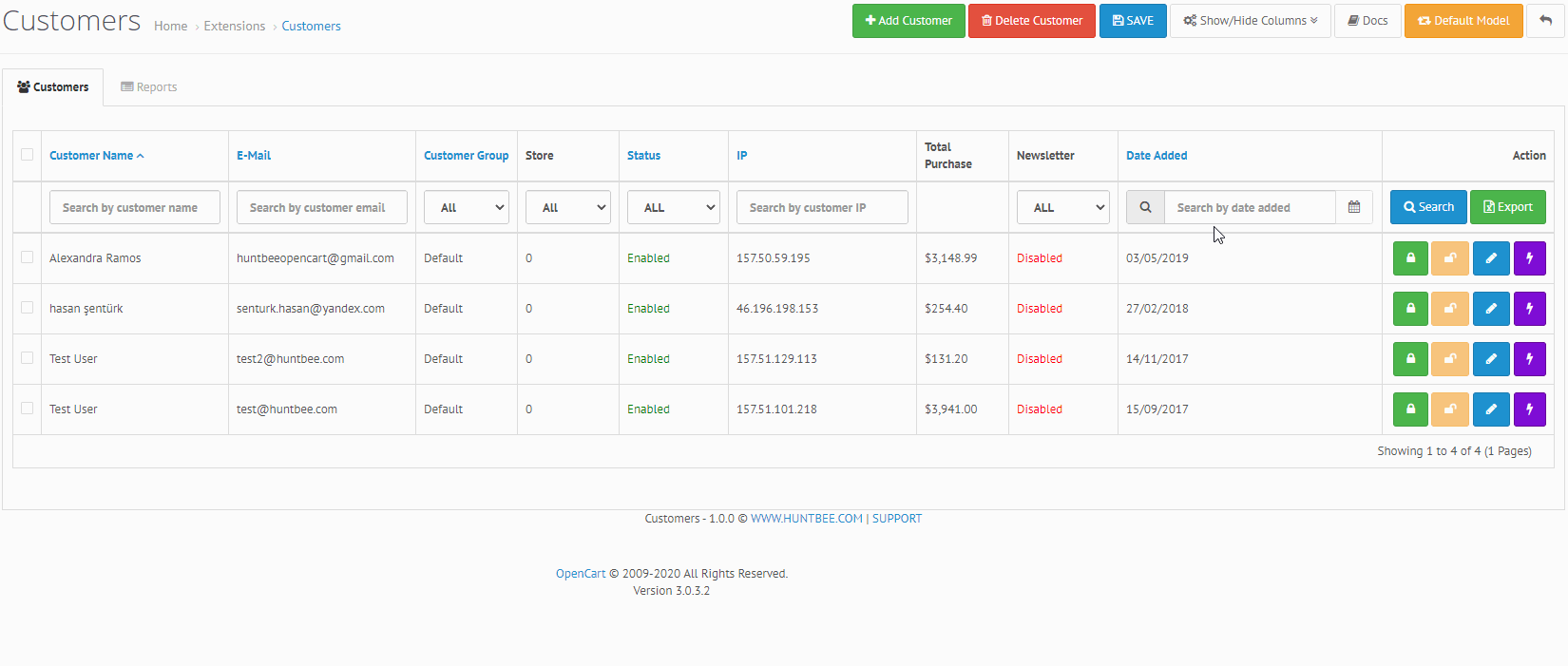 ---
Customer List
The following columns are shown
Customer Name
E-mail
Customer Group
Store ID
IP Address
Total Purchase
Newsletter Subscription
Date Added
You can show/hide the column for your convenience. The following columns can be shown/hidden in the customer list
Customer Group
Store ID
IP Address
Total Purchase
Newsletter Subscription
Date Added
The customer list can also be exported to CSV format. The export also works for filtered data.
---
Customer Reports
This section provides you the following customer reports and the reports can be filtered by date range (start date and end date). The reports can also be exported to CSV.
Total number of customers monthly
Total orders by customers

Number of orders placed
Number of products
Sum of the total purchase amount

Customers by product
---
Customer Details
Features
Displays customer information

Name
E-mail
Phone
Fax
Location
Newsletter Subscribed / Unsubscribed
Customer Status
Customer Since
Total Reward Points
Total transaction credits

Charts for the given date range

Total number of orders placed
Total amount of orders
Yearly total sales & amount
Monthly total sales & amount
Daily total sales & amount
Pie chart for payment method
Pie chart for shipping method

List of orders placed
Purchased Products
Carts items
Wishlist items
Searched Keywords
IP Address
Send Email
Edit Customer
Date Range Filter
The date range filter shows the data between the selected dates.
Be informed that for longer date range (for example, more than 5 years date range), the process could take some time or may result in time-out error or script error. This is completely dependent on your server speed, and we cannot provide you any kind support in such cases.
OPENCART
Compatibility
2.3.0.2, 3.x.x.x
Requirement
OCMOD
Multi-store
Yes
Multi-lingual
Yes
TECHNOLOGIES
Framework
OpenCart
VERSION : 1.0.3
DATE RELEASED: 15 Mar 2021



Pagination issue fix
Filter start range default date set to T -1 Month
VERSION : 1.0.2
DATE RELEASED: 24 Jul 2020



Added telephone column to the customer list
Added Login to store button in customer details pages
Minor CSS changes
VERSION : 1.0.1
DATE RELEASED: 24 Jun 2020



Enable/Disable Total Purchase of customer in customer list to improve speed
VERSION : 1.0.0
DATE RELEASED: 14 Jun 2020


Before you proceed, please take a moment to familiarize yourself with our Extension License and Usage Policy. By purchasing and using our extension, you agree to the terms outlined below.
Domain and Subdomain Usage: Your purchase of this extension license grants you the right to use the extension on a single domain and its associated subdomains. Should you wish to use the extension on multiple domains, a separate license must be purchased for each domain.
License Activation and Extension Download: After purchasing the extension, it's important to activate your license. Visit https://www.huntbee.com/get-support to activate your license and validate your authorization. The extension download will be enabled only after successful license activation. This step helps ensure the legitimate use of the extension.
Prohibition of Licensing, Sub-Licensing, and Reselling: Please note that you are not permitted to license, sub-license, or resell our extension to third parties. The license you acquire is exclusively for your use and benefit.
Code, Logic, and Algorithm Usage: While we encourage innovation, the reuse of any part of the extension's code, logic, or algorithm for purposes beyond its advertised functionality is prohibited. This safeguard ensures the extension operates as intended.
Modification and Distribution: Feel free to modify the extension to suit your specific needs. However, distributing or sharing modified versions with others is not allowed. This maintains the integrity of the original code.
Updates and Support: Upon purchase, you are entitled to updates and support for a specified period, as detailed in the product documentation. Our support team is here to assist with any issues related to the extension's functionality.