This extension is an enhanced model of customer dashboard in the OpenCart Admin. The extension uses Ajax for filtering which makes the search or filter process much more easier and faster.
Along with the basic details, this extension offers customer reporting.
The extension also provides export to CSV.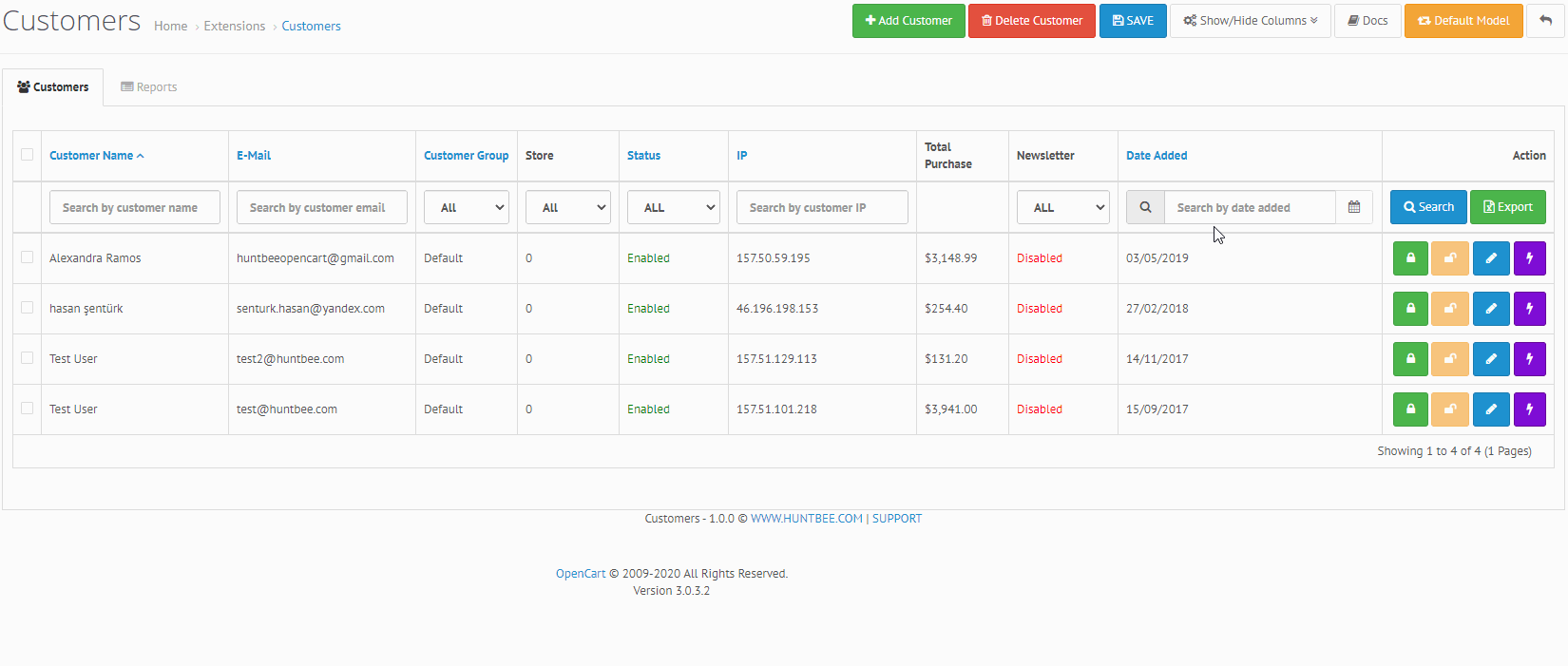 ---
Customer List
The following columns are shown
Customer Name
E-mail
Customer Group
Store ID
IP Address
Total Purchase
Newsletter Subscription
Date Added
You can show/hide the column for your convenience. The following columns can be shown/hidden in the customer list
Customer Group
Store ID
IP Address
Total Purchase
Newsletter Subscription
Date Added
The customer list can also be exported to CSV format. The export also works for filtered data.
---
Customer Reports
This section provides you the following customer reports and the reports can be filtered by date range (start date and end date). The reports can also be exported to CSV.
Total number of customers monthly
Total orders by customers

Number of orders placed
Number of products
Sum of the total purchase amount

Customers by product
---
Customer Details
Features
Displays customer information

Name
E-mail
Phone
Fax
Location
Newsletter Subscribed / Unsubscribed
Customer Status
Customer Since
Total Reward Points
Total transaction credits

Charts for the given date range

Total number of orders placed
Total amount of orders
Yearly total sales & amount
Monthly total sales & amount
Daily total sales & amount
Pie chart for payment method
Pie chart for shipping method

List of orders placed
Purchased Products
Carts items
Wishlist items
Searched Keywords
IP Address
Send Email
Edit Customer
Date Range Filter
The date range filter shows the data between the selected dates.
If you are trying to get the data which includes the present date, it is recommended to provide the end date as the next day. It is because the time is set to 00:00:00 by default and current date records may have time greater than 00:00:00 and therefore this data will not fall in this range. Hence it is advisable to select the next date for the end date.
Be informed that for longer date range (for example, more than 5 years date range), the process could take some time or may result in time-out error or script error. This is completely dependent on your server speed, and we cannot provide you any kind support in such cases.
OPENCART
Compatibility
2.3.0.2, 3.x.x.x
Requirement
OCMOD
Multi-store
Yes
Multi-lingual
Yes
TECHNOLOGIES
Framework
OpenCart
VERSION : 1.0.1
DATE RELEASED: 24 Jun 2020



Enable/Disable Total Purchase of customer in customer list to improve speed
VERSION : 1.0.0
DATE RELEASED: 14 Jun 2020


6 Months Free Premium Support for each license from the date of purchase
You can extend the support for another 6 months (i.e 1 Year Support) by paying additional 30% of price of the extension. This needs to be done within 7 days from the date of purchase
Support can be renewed for 6 months once the support is expired. The charges for renewing support is 60% of latest price of the extension
---
How to ask for support?
For any post purchase support, you need to raise a support ticket at https://www.huntbee.com/get-support
---
For more information please go through our Support Policy

License to use extension is restricted to only one domain and its subdomain. If you want to use the extension in other domains you need to purchase license (i.e., Purchase again)
After purchase you need to activate license by visiting https://www.huntbee.com/get-support. This is done to validate your authorization.
You cannot license, sub-license and resell our products
You cannot resuse any part of the code or logic or algorithm of this product to anywhere else which doesn't satisfy the operation of this product as advertised.