Manage your orders quickly and save a lot of time. Most advanced order management tool for OpenCart.
---
FEATURES:
AJAX Search and advanced pro filter options
Bulk Order Status Update
Export and Import Order Data
Top & Bottom Page Navigation for easy access
Show or Hide Required Order Columns
Order Items
Order History Delete Option
Missing Orders Tab
Additional Customized Tabs for Order Status Filter
Colored Rows and Colored Label based on Order Status of the Order
In-Built Integration Support for Supporting Applications like PDF Invoice PRO, Order Shipment Tracking
and many more features…
---
SCREENSHOTS: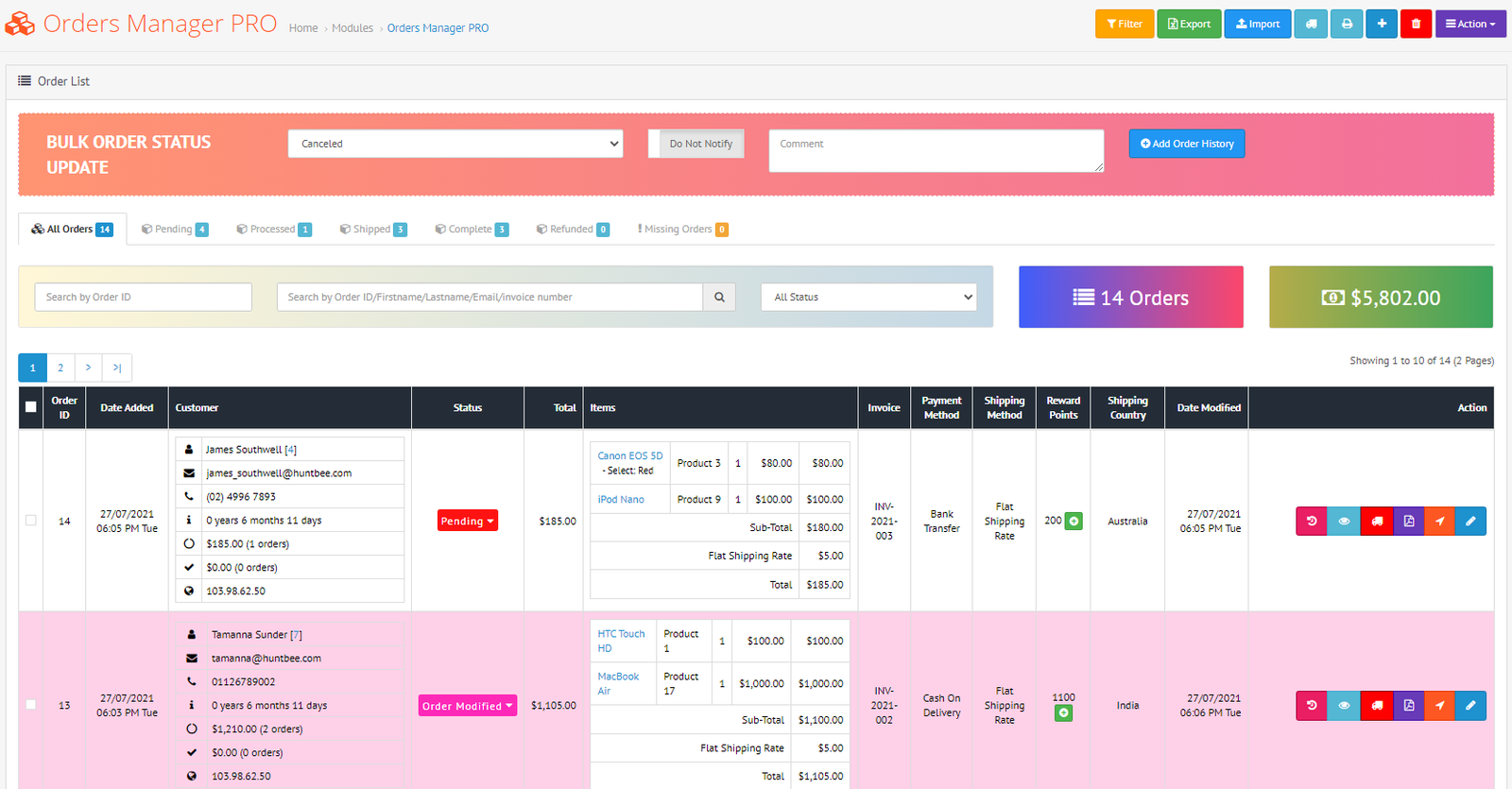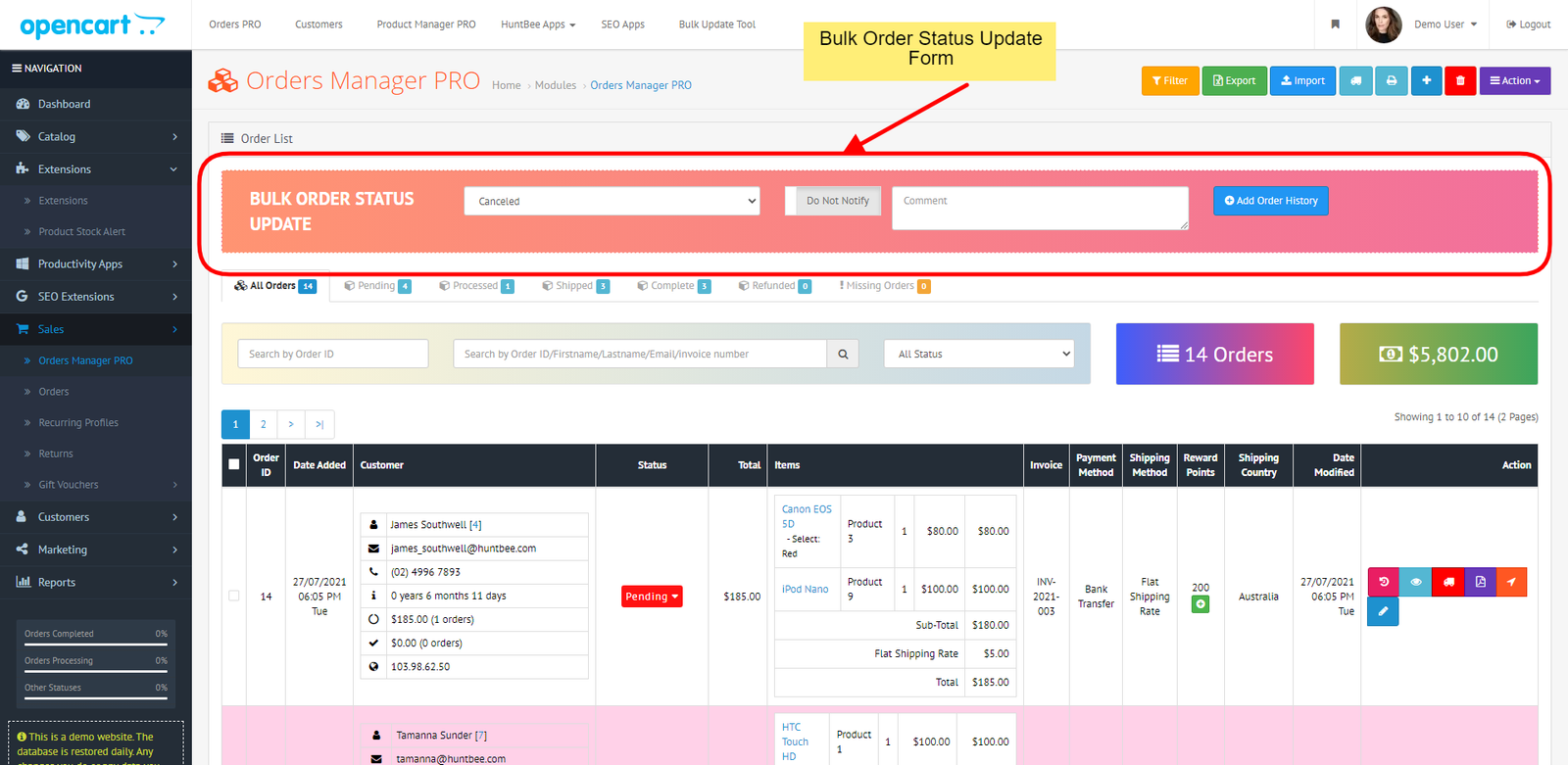 OPENCART
Compatibility
2.x.x.x, 3.x.x.x
Core Files Overwrite
No
Multi-lingual
Yes
VERSION : 1.1.0
DATE RELEASED: 22 Apr 2022



Sort by date added, date modified added
Optional custom fields value provision added (can be enabled by uncommenting the code in the file)
Tabs Disable Feature

VERSION : 1.0.4
DATE RELEASED: 27 Nov 2021



Reset comment input field after order update history is added
Some compatibility fixes made w.r.t older OpenCart versios 2.0.x.x
VERSION : 1.0.3
DATE RELEASED: 07 Nov 2021



Minor Improvements
VERSION : 1.0.2
DATE RELEASED: 23 Aug 2021



Minor fix w.r.t Pagination

VERSION : 1.0.1
DATE RELEASED: 17 Aug 2021



"Login as Customer" option added

VERSION : 1.0.0
DATE RELEASED: 08 Aug 2021



First Release
Before you proceed, please take a moment to familiarize yourself with our Extension License and Usage Policy. By purchasing and using our extension, you agree to the terms outlined below.
Domain and Subdomain Usage: Your purchase of this extension license grants you the right to use the extension on a single domain and its associated subdomains. Should you wish to use the extension on multiple domains, a separate license must be purchased for each domain.
License Activation and Extension Download: After purchasing the extension, it's important to activate your license. Visit https://www.huntbee.com/get-support to activate your license and validate your authorization. The extension download will be enabled only after successful license activation. This step helps ensure the legitimate use of the extension.
Prohibition of Licensing, Sub-Licensing, and Reselling: Please note that you are not permitted to license, sub-license, or resell our extension to third parties. The license you acquire is exclusively for your use and benefit.
Code, Logic, and Algorithm Usage: While we encourage innovation, the reuse of any part of the extension's code, logic, or algorithm for purposes beyond its advertised functionality is prohibited. This safeguard ensures the extension operates as intended.
Modification and Distribution: Feel free to modify the extension to suit your specific needs. However, distributing or sharing modified versions with others is not allowed. This maintains the integrity of the original code.
Updates and Support: Upon purchase, you are entitled to updates and support for a specified period, as detailed in the product documentation. Our support team is here to assist with any issues related to the extension's functionality.