Manage and edit your products easily and save a lot of time using this most advanced product editor for OpenCart.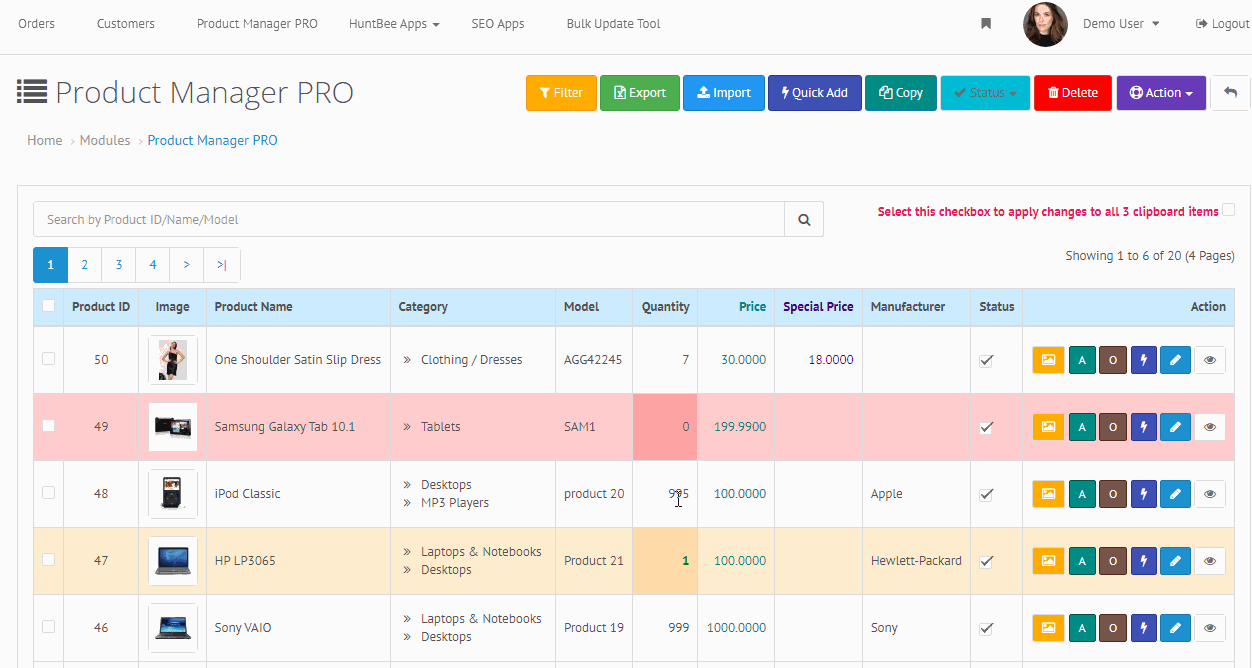 ---
FEATURES:
Ajax Product Search
Advanced Search Filter
Export Products table
Import Products
Edit values directly clicking on the table column
Bulk edit changes
Quick Add form
Bulk Product Image Upload
Drag and drop Image Sorting
---
VIDEO DEMONSTRATION:
OPENCART
Compatibility
2.x.x.x, 3.x.x.x
VERSION : 1.0.12
DATE RELEASED: 24 Mar 2023



Fixed export issue
VERSION : 1.0.11
DATE RELEASED: 28 Feb 2023



Empty Spaces at the end removed while saving the data for columns

VERSION : 1.1.10
DATE RELEASED: 23 Feb 2023



HTML tags removed while saving column value
VERSION : 1.0.8
DATE RELEASED: 03 Dec 2022



Fixed minor bug related to update require shipping field
VERSION : 1.0.6
DATE RELEASED: 18 Apr 2022



Lowercase converted search for common search bar
VERSION : 1.0.5
DATE RELEASED: 03 Mar 2022



Fixed Bulk Drop Down field update
Fixed OCMOD duplication during installation
VERSION : 1.0.4
DATE RELEASED: 20 Dec 2021



Added Feature - Quick Search by SKU
VERSION : 1.0.3
DATE RELEASED: 03 Nov 2021



Fixed a minor bug related to CSV upload of product description data. To update you can simply download the files and upload via FTP or you can reinstall the extension.
VERSION : 1.0.1
DATE RELEASED: 07 Jul 2021



Added row color setup, admin can choose the color for out-of-stock rows and low stock rows. Admin can also choose the quantity that defines out-of-stock or low stock rows.
VERSION : 1.0.0
DATE RELEASED: 26 Jun 2021



First Release
The license to use extension is restricted to only one domain and its subdomain. If you want to use the extension in other domains you need to purchase another license (i.e., Purchase again)
After purchase, you need to activate the license by visiting https://www.huntbee.com/get-support. This is done to validate your authorization.
You cannot license, sub-license and resell our products
You cannot reuse any part of the code or logic or algorithm of this product anywhere else which doesn't satisfy the operation of this product as advertised.