This extension displays a product back-in-stock subscription form in the place of add to cart button for an out-of-stock product, and the customer can subscribe to the product to get the alert when the product is back in stock.
The customer will receive an email and SMS (Optional) when the product quantity updated by the admin.
This extension will engage your customer to your website and also it will let you know on the customer demands and gives you an opportunity to provide quality and better customer service to your customers. It makes it easy for you to keep customers up-to-date on the products that they want to purchase but are out of stock.
---
Benefits / Features of this extension
Improve inventory turnaround and get more profit
Build customer loyalty and increase customer satisfaction
Let your customer subscribe to out-of-stock products
Let your customer subscribe to out-of-stock product options of configurable items
Automatically Notify Customers when product is back in stock (Cron Job Setup)
Manually Notify Customers [One Click Operation] when product is back in stock (Cron Job Setup)
Notify individual customers (with stock validation override) *
Email Notification to Customer
Email Subscription confirmation email to Customer *
HTML Email Editor for customer emails (Short-codes available for dynamic email customization)
SMS template editor
Individual Product Subscription trend chart *
Individual Product Subscription Report *
Product Subscription trend *
Tracks Customer Selected Product Options
Tracks Customer Language
Multi-Store, Multi-lingual
Easy Admin Control
If the customer is logged in, the customer need not type his/her email address/name/phone. This extension will automatically get the email address/name/phone of the logged-in customer
Google Analytics Campaign tracking
Cron job script to automate the process
---
How does it work?

There are 2 more variations of this extension.
Product Back in stock - FULL PRO - Replaces Add to Cart button with Notify Me Button based on product stock
Product Back in stock - Standard - Doesn't replace Add to Cart button but pop up the subscription form based on product stock
---
Screenshots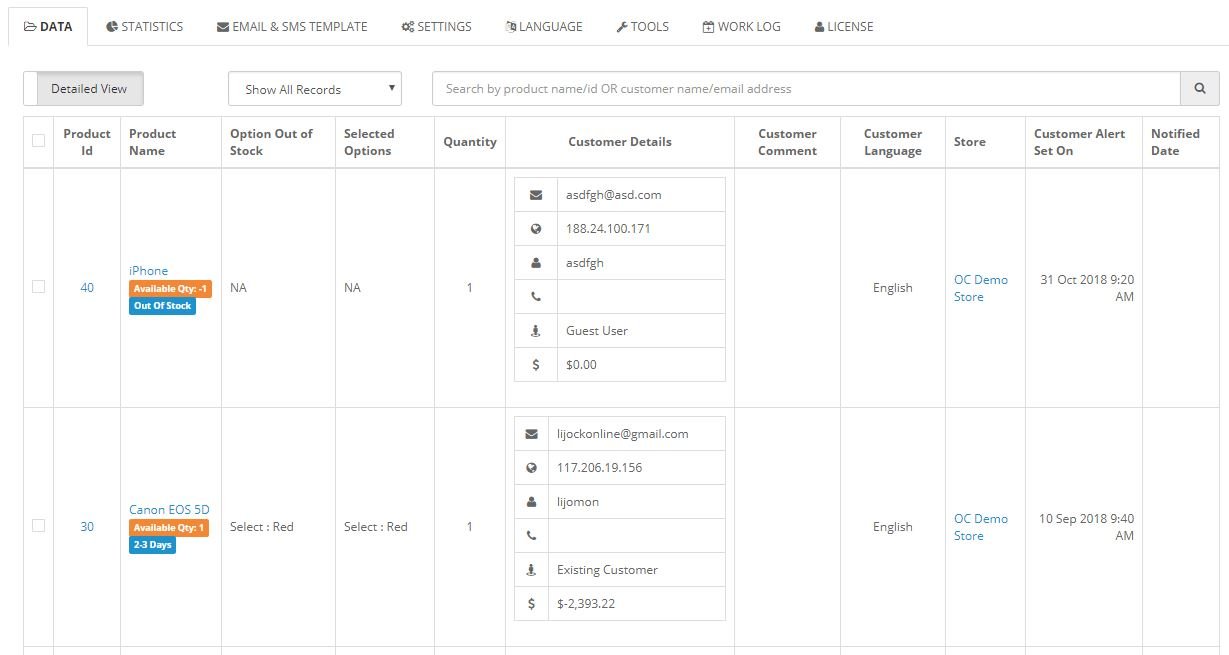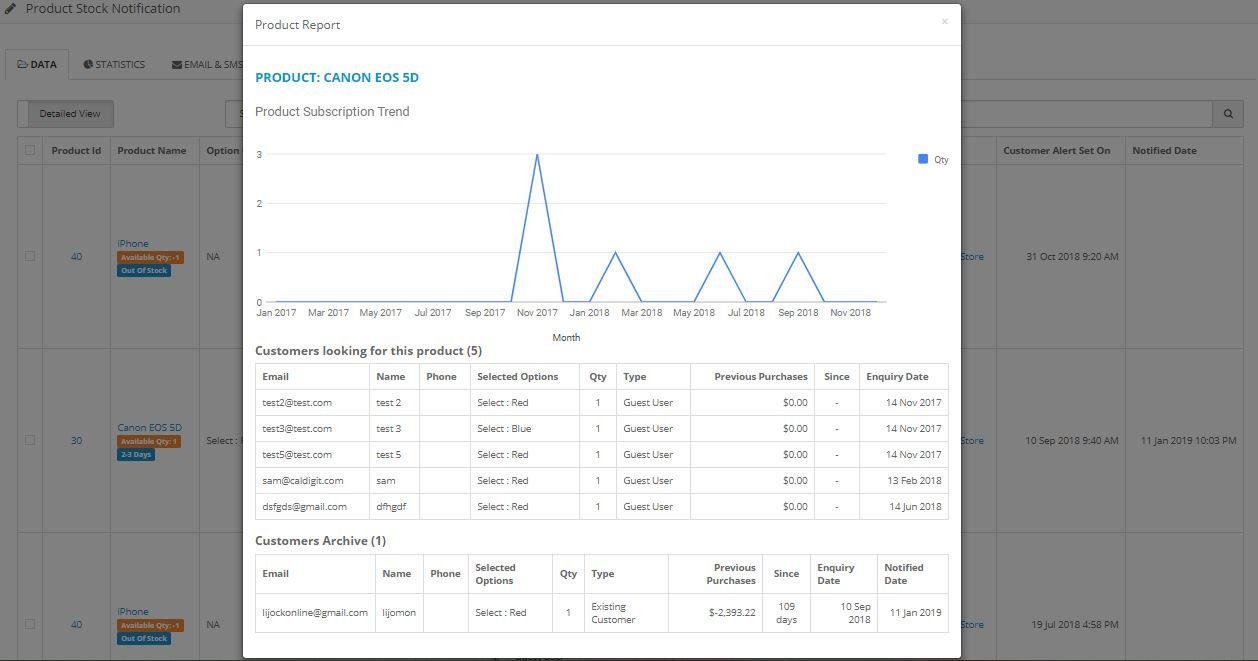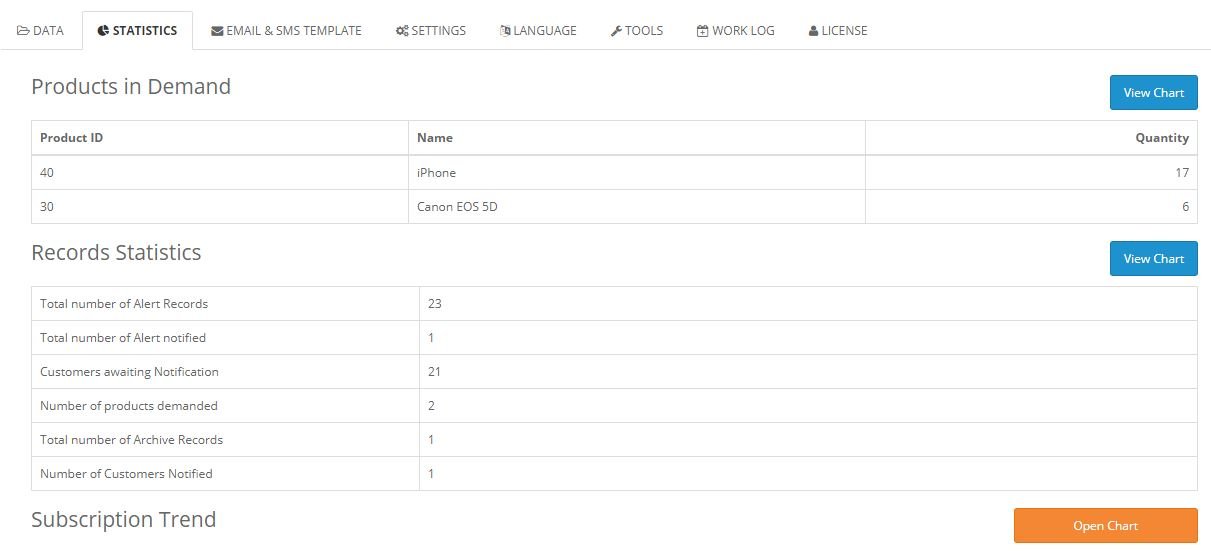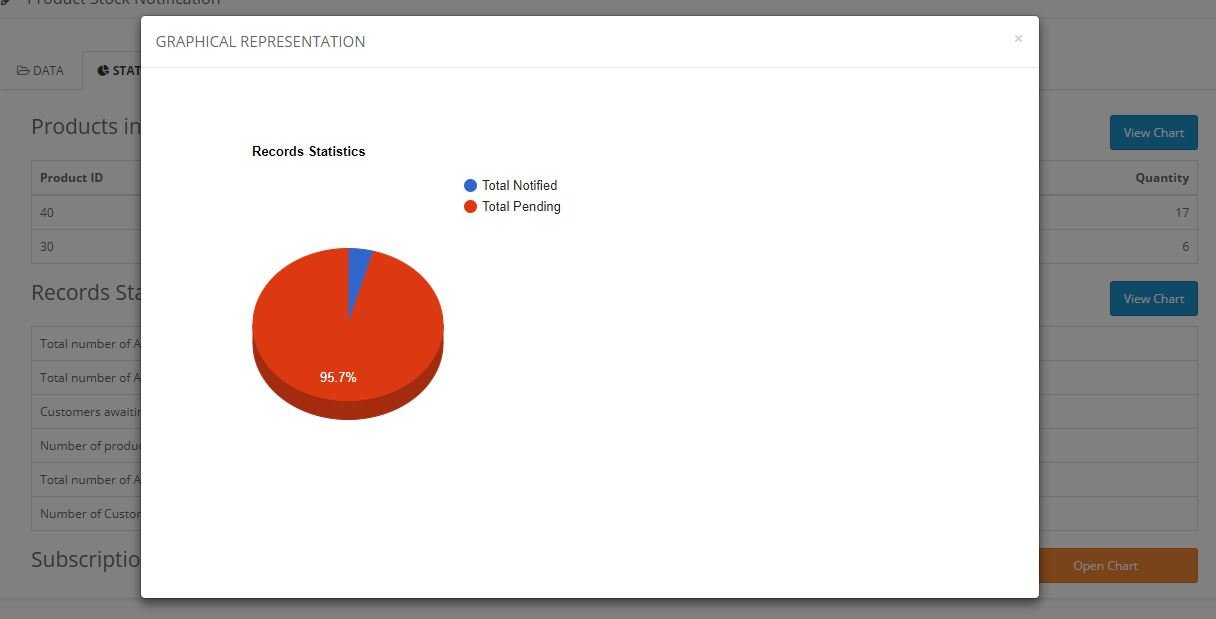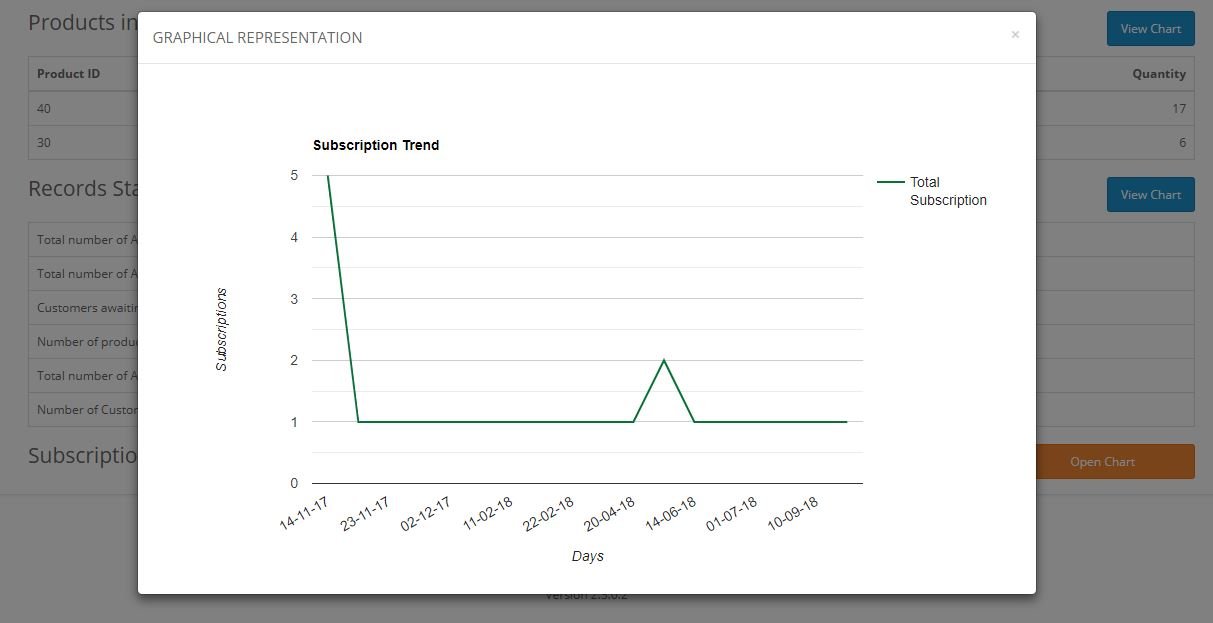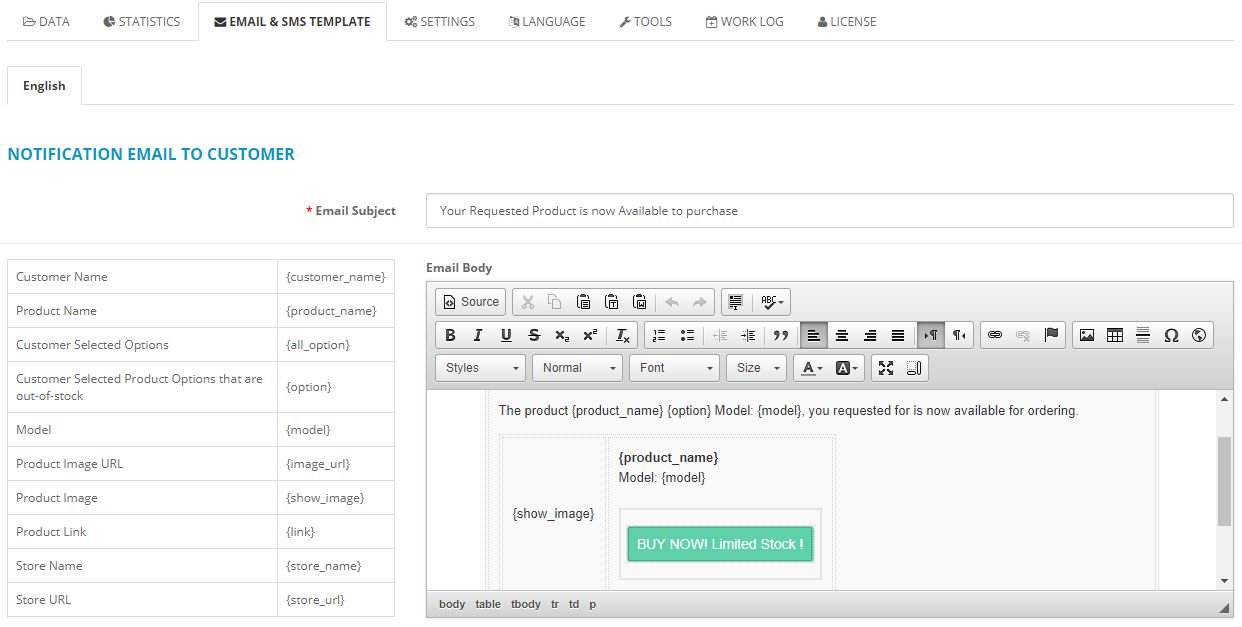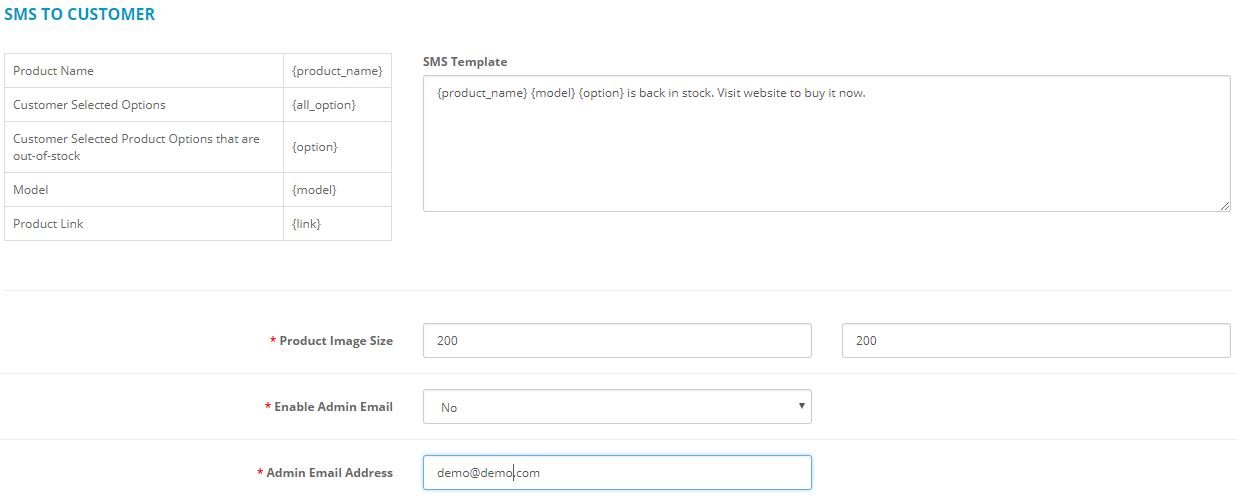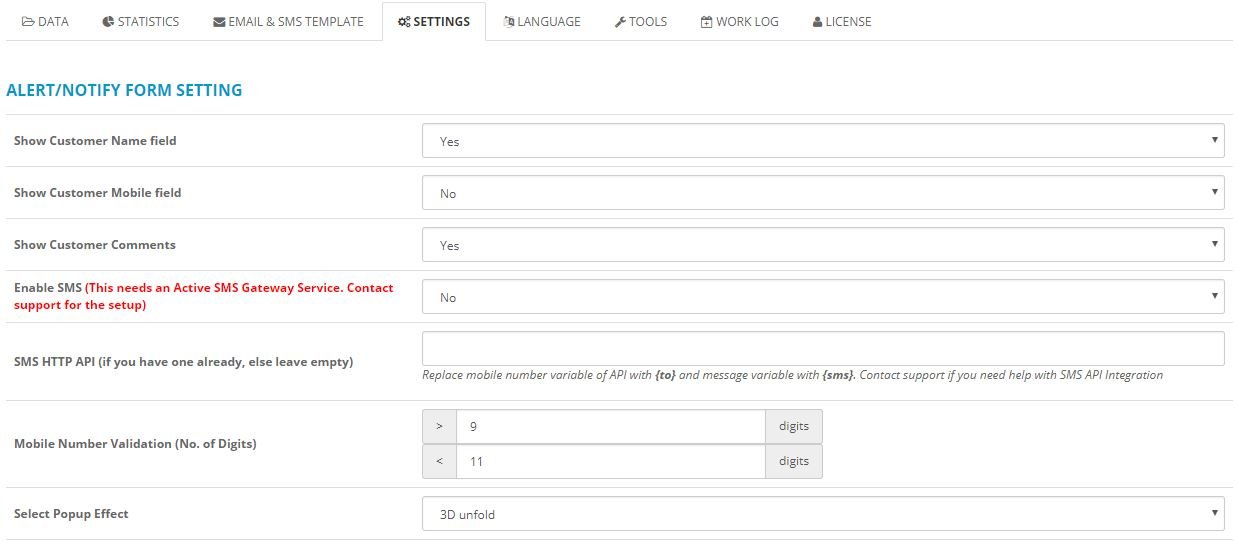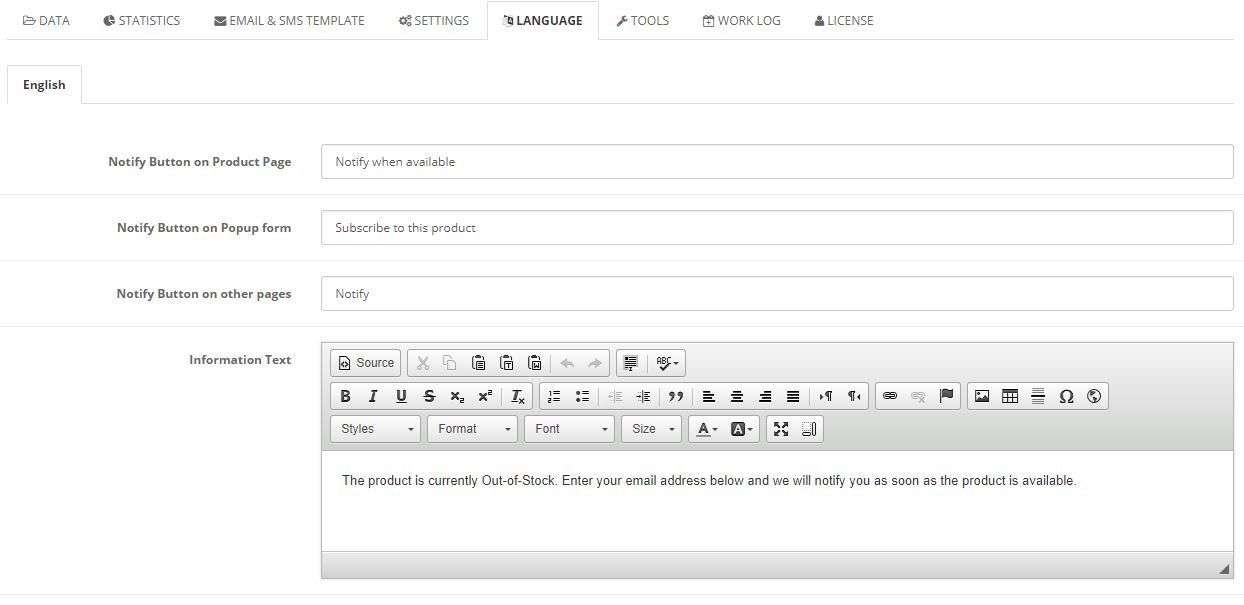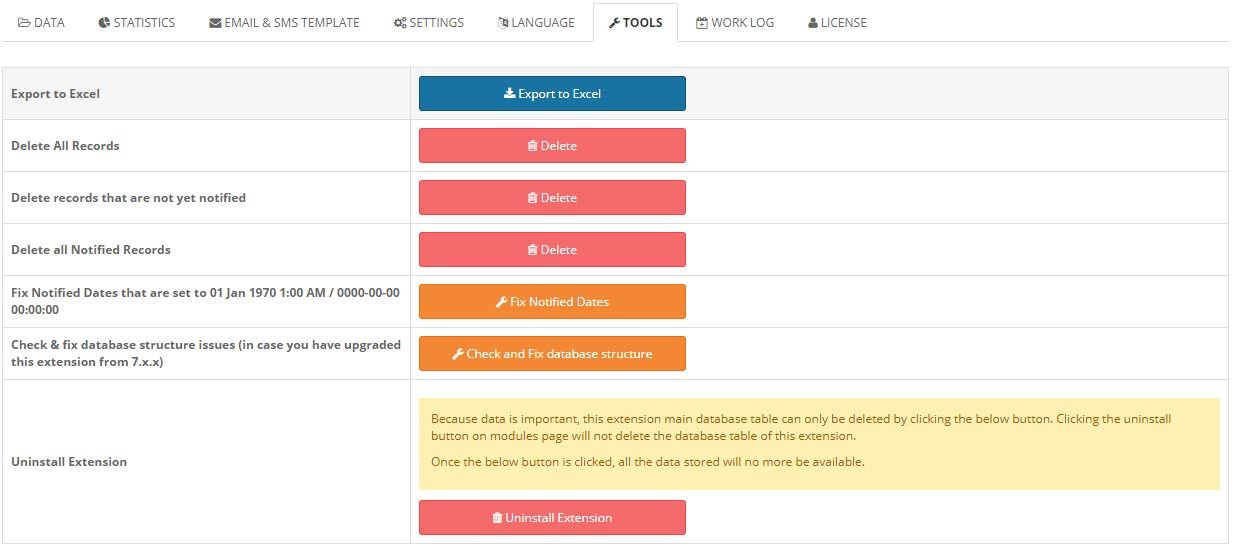 OPENCART
Compatibility
2.0.x.x, 2.1.x.x, 2.2.x.x, 2.3.x.x, 3.x.x.x
Core Files Overwrite
No Core files overwritten
Multi-store
Yes
Multi-lingual
Yes
SUPPORT
Template Support
Free support is applicable only for one template.
TECHNOLOGIES
Framework
OpenCart
VERSION : 10.0.5
DATE RELEASED: 26 Apr 2023



Fixed issue. Product ID was empty when there is no category assigned to the product. Updated the SQL query in the admin model file to fix this issue.
VERSION : 9.0.5
DATE RELEASED: 13 Aug 2019



Email Validation Function Updated
Multiple selections of records for Notify Selected
VERSION : 9.0.4
DATE RELEASED: 04 Jun 2019



Updated the extension for the latest Journal 3.0.34
VERSION : 9.0.2
DATE RELEASED: 25 Mar 2019



Updated compatibilty for Journal3 (w.r.t 3.0.29)
VERSION : 9.0.0
DATE RELEASED: 12 Jan 2019



Removed Feature : Removed addtional jquery flot chart plugin added on previous versions
Code optimized for more security and maximum compatibility
Added Feature: Compact view to view the records in admin
Added Feature: Displays available quantity of products and its out of stock status
Added Feature: Displays if the subscribed alert is from a registered customer or guest customer
Added Feature: Displays total amount of purchase made previously by the particular customer
Added Feature: Search option added to seach records by product id or product name or customer email or customer name
Added Feature: Integrated google charts plugin
Added Feature: Product Subscription trend line chart
Added Feature: Individual Product Report and product subscription trend chart
Added Feature: Integrated ckeditor as HTML Editor
Added Feature: Optional HTML Confirmation Email to customer and template editor
Added Feature: SMS HTTP API input field
Added Feature: Installation of add-on script easily from the extension
Added Feature: Selection and Installation of ocmod script for Journal2 template and Journal3 template
Added Feature: Auto deletion of subscription record if the product is deleted
Before you proceed, please take a moment to familiarize yourself with our Extension License and Usage Policy. By purchasing and using our extension, you agree to the terms outlined below.
Domain and Subdomain Usage: Your purchase of this extension license grants you the right to use the extension on a single domain and its associated subdomains. Should you wish to use the extension on multiple domains, a separate license must be purchased for each domain.
License Activation and Extension Download: After purchasing the extension, it's important to activate your license. Visit https://www.huntbee.com/get-support to activate your license and validate your authorization. The extension download will be enabled only after successful license activation. This step helps ensure the legitimate use of the extension.
Prohibition of Licensing, Sub-Licensing, and Reselling: Please note that you are not permitted to license, sub-license, or resell our extension to third parties. The license you acquire is exclusively for your use and benefit.
Code, Logic, and Algorithm Usage: While we encourage innovation, the reuse of any part of the extension's code, logic, or algorithm for purposes beyond its advertised functionality is prohibited. This safeguard ensures the extension operates as intended.
Modification and Distribution: Feel free to modify the extension to suit your specific needs. However, distributing or sharing modified versions with others is not allowed. This maintains the integrity of the original code.
Updates and Support: Upon purchase, you are entitled to updates and support for a specified period, as detailed in the product documentation. Our support team is here to assist with any issues related to the extension's functionality.