Product Stock Notification Alert - Full - Form Inline
Click Image for Screenshot Gallery
Product Stock Notification Alert - Full - Form Inline| Extensions & Modules, OpenCart Extensions, Increase Productivity | HuntBee OpenCart Services
Many times customer will look for a product and when they see out of stock, they simply leave the website, and you lose a sale.
What happens in this scenario?
The time duration spent by your customer on your website is less and therefore your page CTR (Click-through Rate) is reduced. This affects website Search Engine Optimization (SEO)


You do not know that a customer visited your website and left just because one of your products is not in stock.

Customer gets unhappy

You lose a potential Sale and therefore your potential profit gets affected

You are unaware of Customer demands

Inventory Management is not effective
What is the solution?


Here is an extension which will engage your customer to your website and also it will let you know on the customer demands and gives you an opportunity to provide quality and better customer service to your customers. It makes easy for you to keep customers up to date on the products that they want to purchase but are out of stock.
With this extension you can see which out-of-stock products customers subscribed. This way you will load your stock with the products which you can sell right away. By keeping in stock the products which customers want to buy, you will sell products a lot quicker and save on inventory.
---
Benefits/Feature of this extension
Improve inventory turnaround and get more profit

Build customer loyalty and increase customer satisfaction
Let your customer subscribe to out-of stock products
Let your customer subscribe to out-of stock product options of configurable items
Automatically Notify Customers when product is back in stock (Cron Job Setup).
Email Notification to Customer
Email template and SMS template designer
Tracks Customer Selected Product Options
Tracks Customer Language
Multi-Store, Multi-lingual
Easy Admin Control
If the customer is logged in, the customer need not to type his/her email address/name/phone. This extension will automatically get the email address/name/phone of the logged in customer.
Google Analytics Campaign tracking
Cron job script to automate the process.
---
How it Works?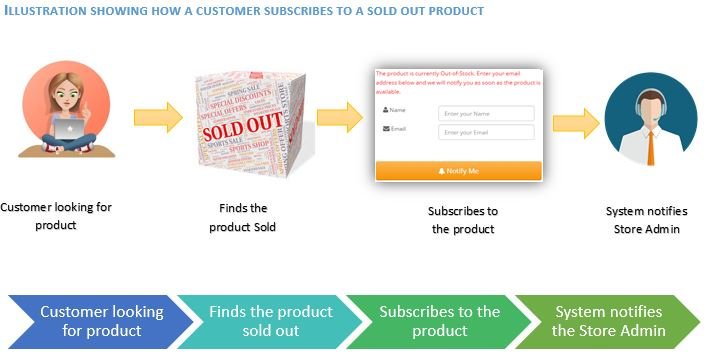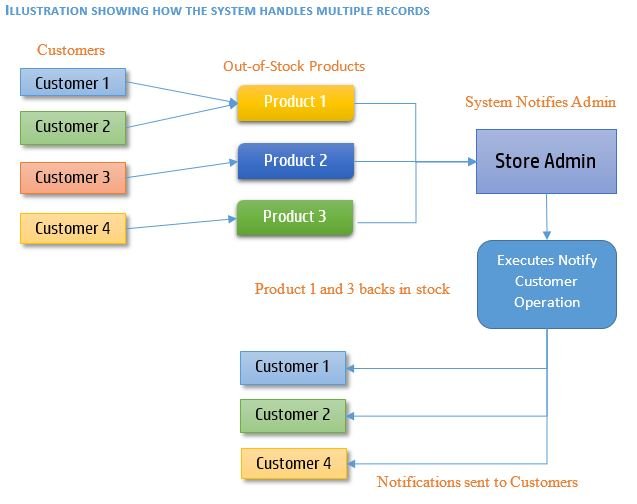 ---
---


SMS (Text Message) functionality


This extension offers you provision of adding SMS functionality to this extension. Adding SMS notification functionality has great advantage over Email notification, as SMS reaches the customer mobile instantly.
Offline Notification - The customer need not to be connected to internet to get the notification.




Email may get delivered to SPAM in some cases. Therefore SMS provides you better customer notification



To send an SMS to any mobile you will need to have an active SMS gateway service. Without an SMS gateway service this extension will not be able to send any SMS. If you have already got HTTP API from your SMS Gateway Vendor, contact our support team to integrate it with this extension.
There are many SMS Gateway provider who offer your SMS Web Integration. Select a service for best and quality service and at affordable price package.
There are also free gateway available to send SMS where your smartphone acts as a server and your mobile number is used to send SMS. Contact our support for more information.
Once you are registered to a service contact our support to integrate the facility to your website for this extension functionality (Not covered under free support. Custom charges applicable according to the SMS gateway API settings).
---
OPENCART
Compatibility
2.0.x.x, 2.1.x.x, 2.2.x.x, 2.3.x.x
Core Files Overwrite
NO
Multi-store
Yes
Multi-lingual
Yes
Mostly No. This extension works on the opencart's default product stock quantity model. If any other extension overrides this product quantity system and uses it's own table or column in database then this extension will not be compatible with that.
6 Months Free Premium Support for each license from the date of purchase

You can extend the support for another 6 months (i.e 1 Year Support) by paying additional 30% of price of the extension. This needs to be done within 7 days from the date of purchase

Support can be renewed for 6 months once the support is expired. The charges for renewing support is 60% of latest price of the extension
How to ask for support?
For any post purchase support, you need to raise a support ticket at https://www.huntbee.com/get-support
---
For more information please go through our Support Policy
License to use extension is restricted to only one domain and its subdomain. If you want to use the extension in other domains you need to purchase license (i.e., Purchase again)

After purchase you need to activate license by visiting https://www.huntbee.com/get-support. This is done to validate your authorization.

You cannot license, sub-license and resell our products

You cannot resuse any part of the code or logic or algorithm of this product to anywhere else which doesn't satisfy the operation of this product as advertised.