Many times customer will look for a product and when they see out of stock, they simply leave the website, and you lose a sale.
What happens when customer finds a product Out-of-Stock?
The time duration spent by your customer on your website is less and therefore your page CTR (Click-through Rate) is reduced. This affects website Search Engine Optimization (SEO)
You do not know that a customer visited your website and left just because one of your products is not in stock.
Customer gets unhappy
You lose a potential Sale and therefore your potential profit gets affected
You are unaware of Customer demands
Inventory Management is not effective
What is the solution?
Here is an extension which will engage your customer to your website and also it will let you know on the customer demands and gives you an opportunity to provide quality and better customer service to your customers. It makes easy for you to keep customers up to date on the products that they want to purchase but are out of stock.
With this extension you can see which out-of-stock products customers subscribed. This way you will load your stock with the products which you can sell right away. By keeping in stock the products which customers want to buy, you will sell products a lot quicker and save on inventory.

Benefits / Features of this extension
Features mentioned here are as per the latest extension version (9.x.x)
Improve inventory turnaround and get more profit
Build customer loyalty and increase customer satisfaction
Let your customer subscribe to out-of stock products
Let your customer subscribe to out-of stock product options of configurable items
Automatically Notify Customers when product is back in stock (Cron Job Setup)
Manually Notify Customers [One Click Operation] when product is back in stock (Cron Job Setup)
Notify individual customers (with stock validation override) *
Email Notification to Customer
Email Subscription confirmation email to Customer *
HTML Email Editor for customer emails (Short-codes available for dynamic email customization)
SMS template editor
Individual Product Subscription trend chart *
Individual Product Subscription Report *
Product Subscription trend *
Tracks Customer Selected Product Options
Tracks Customer Language
Multi-Store, Multi-lingual
Easy Admin Control
If the customer is logged in, the customer need not to type his/her email address/name/phone. This extension will automatically get the email address/name/phone of the logged in customer
Google Analytics Campaign tracking
Cron job script to automate the process
* Features not available for OpenCart 1.5.x.x versions
How it works?

This extension has 3 kinds of licenses. Refer the below table to check the features. The basic functionality is same. It differs only on how the button appears in store front end


Features
Standard
Full Pro
Full – Form Inline
Compatibility
OpenCart 1.5.x.x, 2.x.x.x, 3.x.x.x
OpenCart 1.5.x.x, 2.x.x.x, 3.x.x.x

OpenCart 2.0.x.x to 3.x.x.x

Add to Cart Button Behaviour
No Changes to button, but when clicked on add to cart button of a out-of stock product, notify form pops out

Add to Cart button is Renamed to Notify Me Button for product out-of-stock (Product with no user options); and upon clicking on this button, notify form pops out.

However No changes to add to cart button on product with out-of-stock user options.

Change of add to cart button to notify me button when user selects out-of stock options can be provided on demand.

Notify form is embedded in Product page for product out-of-stock.

Also covers standard and full-PRO license support

Template Dependency
Less Dependent
Highly Dependent
Highly Dependent
---


The features differs based on opencart versions. Refer the below tables for the comparison


FEATURES
OPENCART 1.5.x.x
OPENCART 2.x.x.x
OPENCART 3.x.x.x
In-built Template Support

Default, Journal2

(Free support for template conflict)

Default, Journal2, Journal3

(Free support for template conflict)

Default, Journal2, Journal3

(Free support for template conflict)

Enhancement/Future Updates

Discontinued

(It is suggessted to upgrade your opencart version to 2.x.x.x or higher to get the full features of the extension)
Active
Active
Notification Email to customer
Yes
Yes
Yes
Confirmation Email to customer
No
Yes
Yes
Enhanced Admin Dashboard
No
Yes
Yes
---


SMS (Text Message) functionality
This extension offers you provision of adding SMS functionality to this extension. Adding SMS notification functionality has great advantage over Email notification, as SMS reaches the customer mobile instantly.
Offline Notification - The customer need not to be connected to internet to get the notification.




Email may get delivered to SPAM in some cases. Therefore SMS provides you better customer notification
To send an SMS to any mobile you will need to have an active SMS gateway service. Without an SMS gateway service this extension will not be able to send any SMS. If you have already got HTTP API from your SMS Gateway Vendor, contact our support team to integrate it with this extension.
There are many SMS Gateway provider who offer your SMS Web Integration. Select a service for best and quality service and at affordable price package.

There are also free gateway available to send SMS where your smartphone acts as a server and your mobile number is used to send SMS. Contact our support for more information.

Once you are registered to a service contact our support to integrate the facility to your website for this extension functionality (Not covered under free support. Custom charges applicable according to the SMS gateway API settings).

---
Screenshots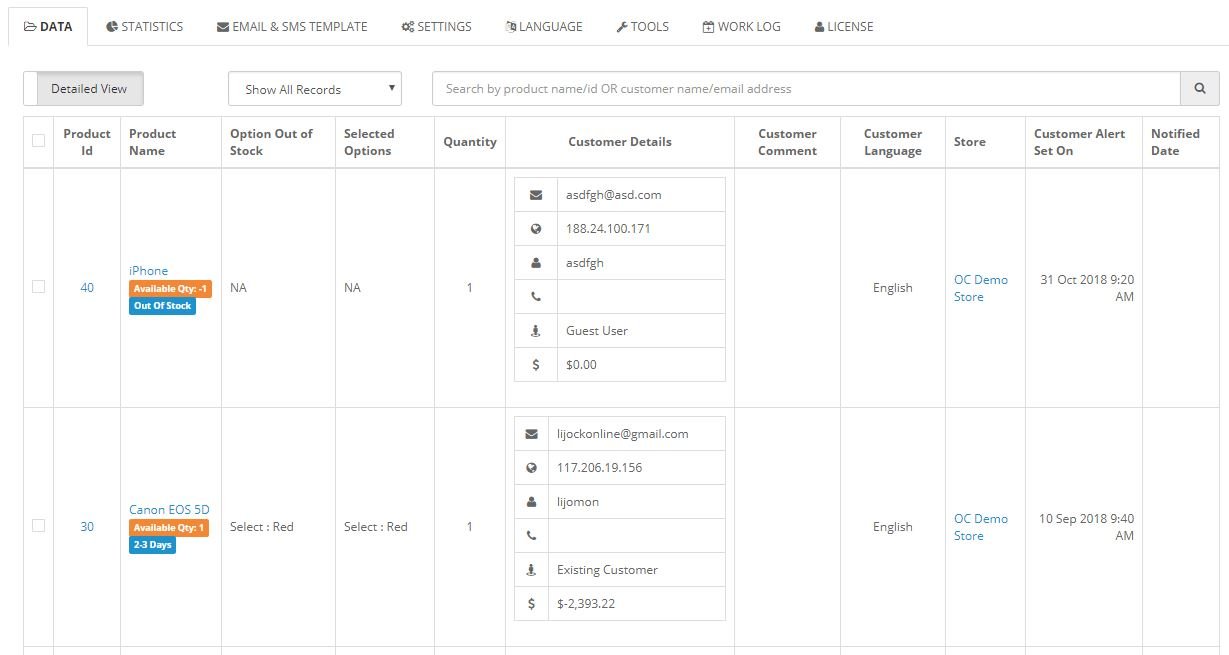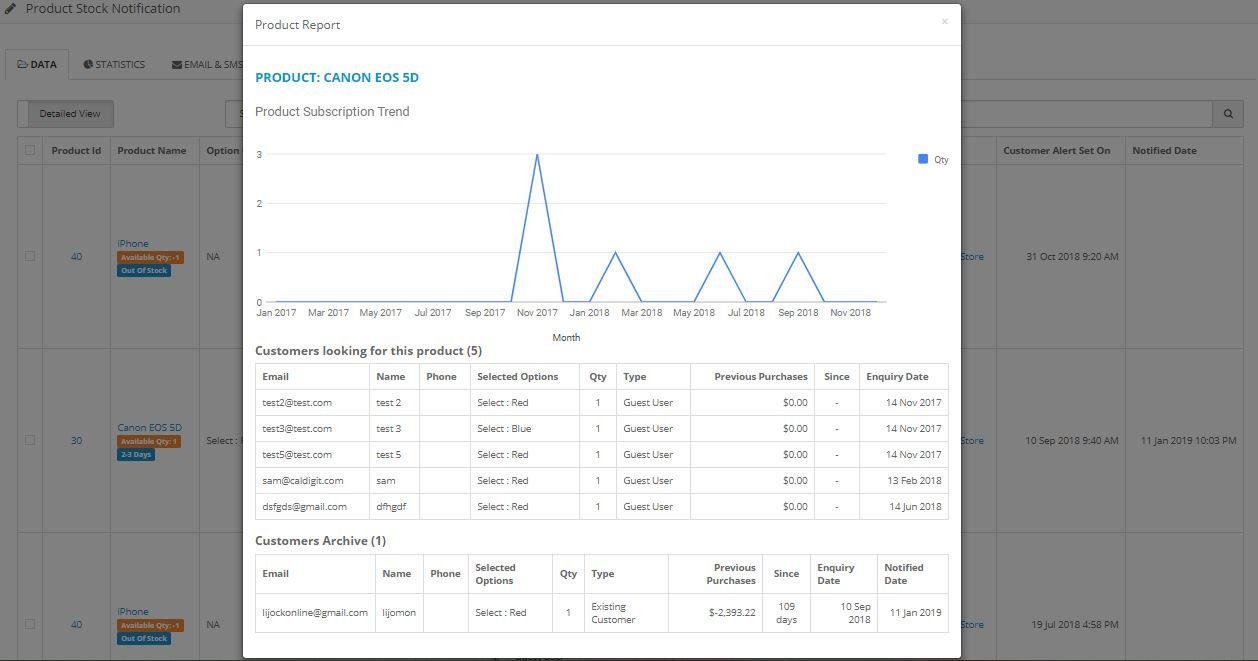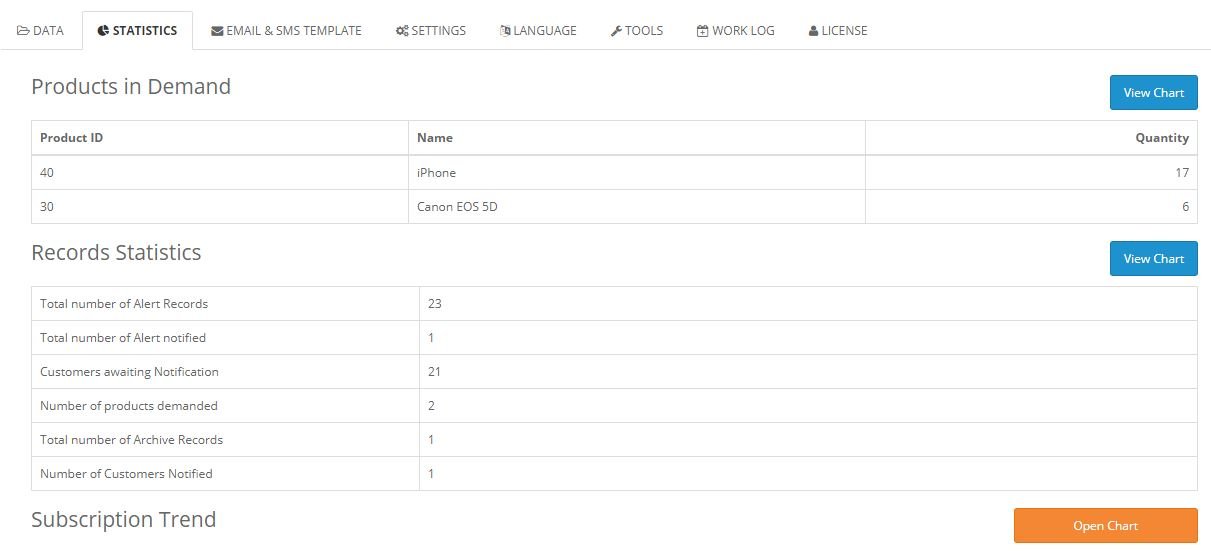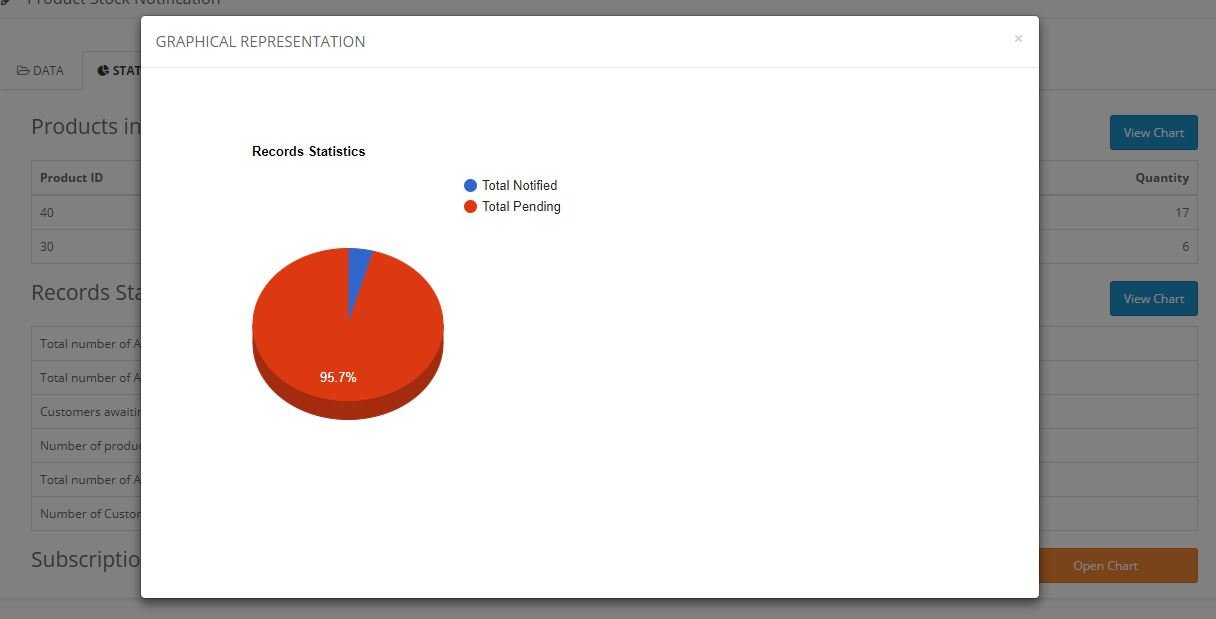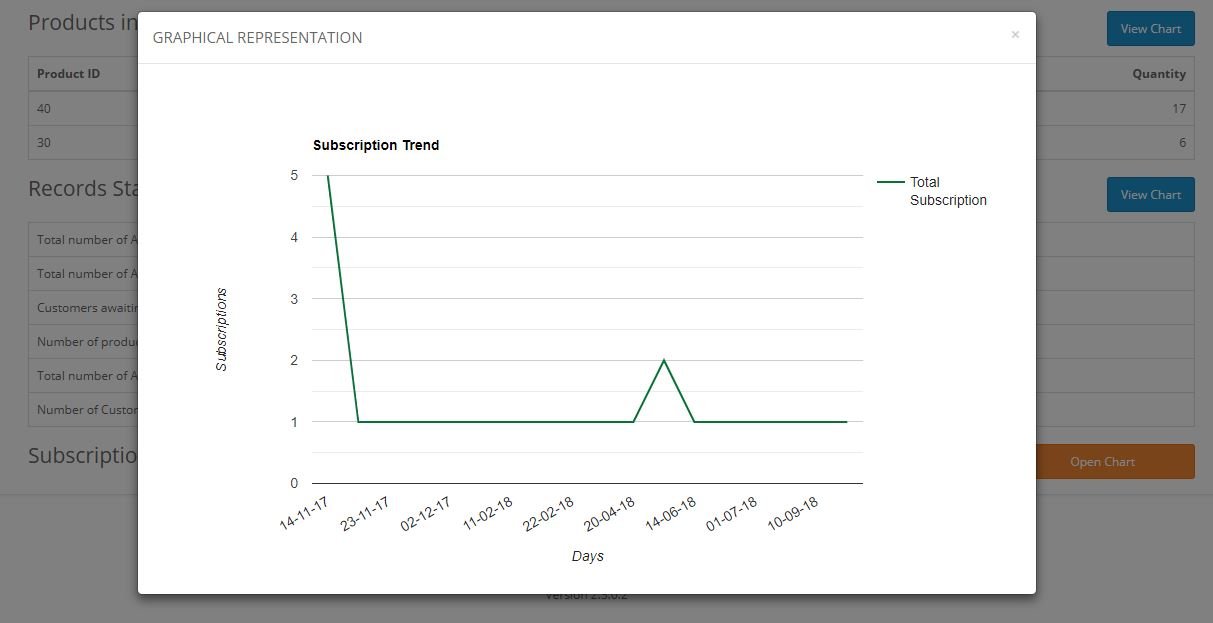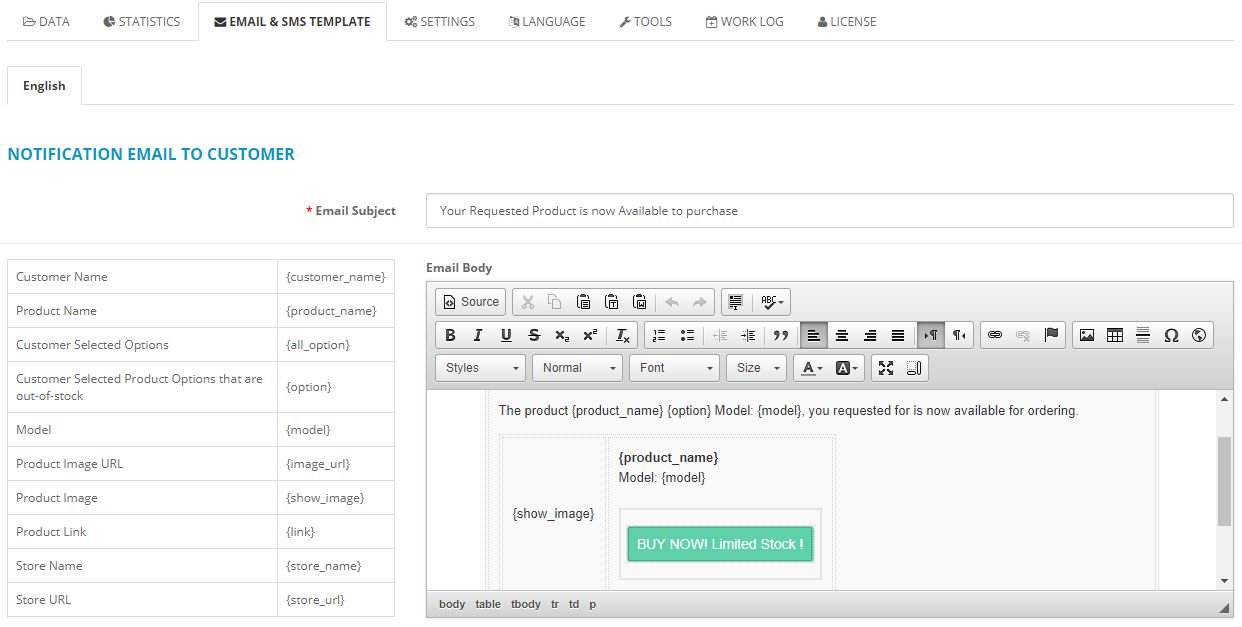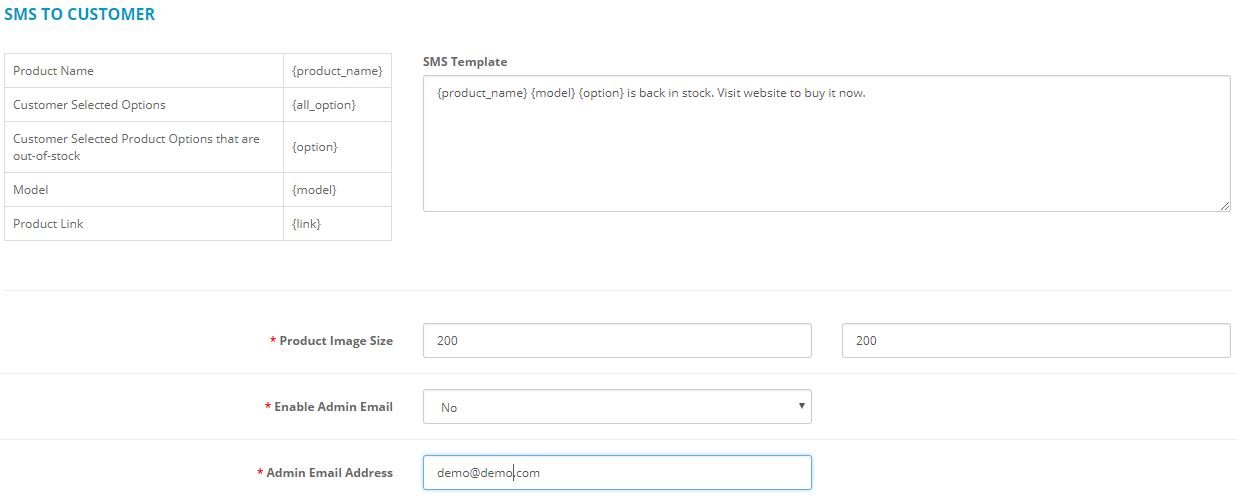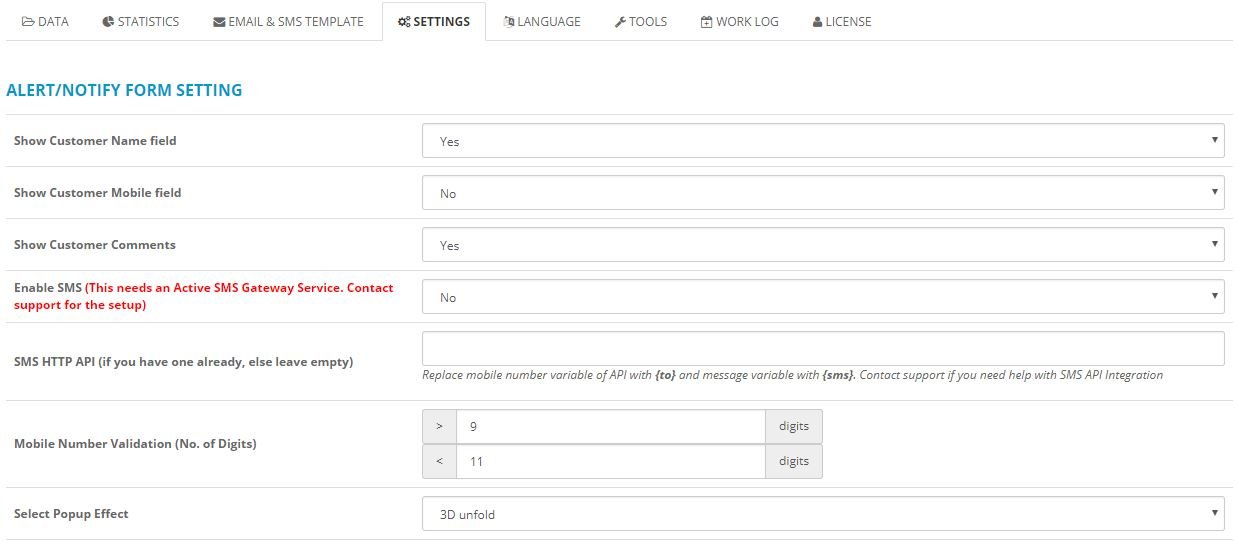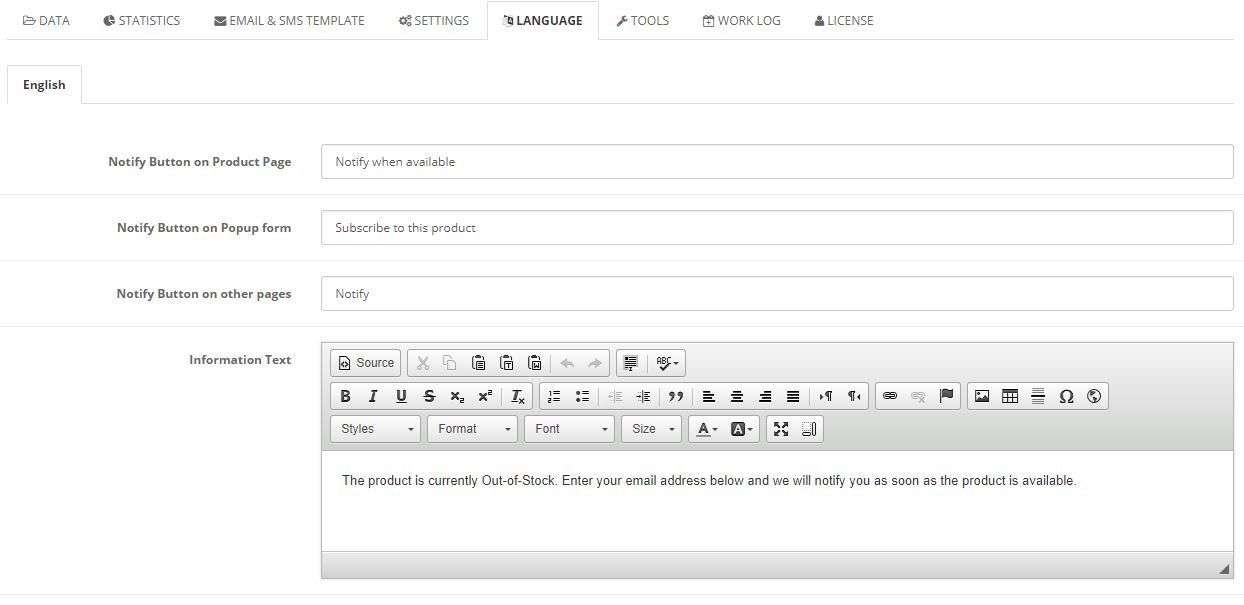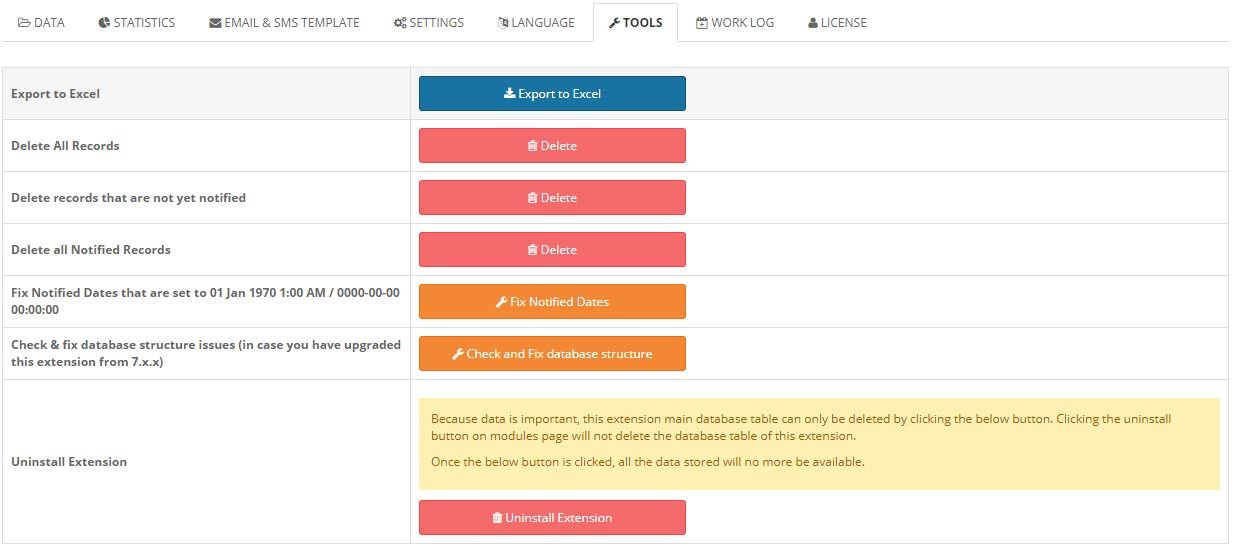 OPENCART
Compatibility
1.5.4.x, 1.5.5.x, 1.5.6.x, 2.0.x.x, 2.1.x.x, 2.2.x.x, 2.3.x.x, 3.x.x.x (Enhancement and updates discontinued for 1.5.x.x versions)
Requirement
VQMOD 2.x for OpenCart 1.5.x.x, OCMOD for opencart 2.x.x.x and higher versions
Core Files Overwrite
No Core files overwritten
Multi-store
Yes
Multi-lingual
Yes
SUPPORT
Template Support
Free support is applicable only for one template.
TECHNOLOGIES
Framework
OpenCart
VERSION : 9.0.5
DATE RELEASED: 13 Aug 2019



Email Validation Function Updated
Multiple selections of records for Notify Selected
VERSION : 9.0.4
DATE RELEASED: 03 Jun 2019



Updated the extension for the latest Journal 3.0.34
VERSION : 9.0.2
DATE RELEASED: 24 Mar 2019



Updated compatibilty for Journal3 (w.r.t 3.0.29)
VERSION : 9.0.0
DATE RELEASED: 11 Jan 2019



Removed Feature : Removed addtional jquery flot chart plugin added on previous versions
Code optimized for more security and maximum compatibility
Added Feature: Compact view to view the records in admin
Added Feature: Displays available quantity of products and its out of stock status
Added Feature: Displays if the subscribed alert is from a registered customer or guest customer
Added Feature: Displays total amount of purchase made previously by the particular customer
Added Feature: Search option added to seach records by product id or product name or customer email or customer name
Added Feature: Integrated google charts plugin
Added Feature: Product Subscription trend line chart
Added Feature: Individual Product Report and product subscription trend chart
Added Feature: Integrated ckeditor as HTML Editor
Added Feature: Optional HTML Confirmation Email to customer and template editor
Added Feature: SMS HTTP API input field
Added Feature: Installation of add-on script easily from the extension
Added Feature: Selection and Installation of ocmod script for Journal2 template and Journal3 template
Added Feature: Auto deletion of subscription record if the product is deleted
VERSION : 8.0
DATE RELEASED: 03 Jun 2017



This update is only for OpenCart Versions 2.0.x.x, 2.1.x.x, 2.2.0.0, 2.3.x.x

VQMOD Dependency Removed
OpenCart's OCMOD Dependent
file_get_contents function dependency removed; curl function dependency removed
Extension location changed from Extensions to Extensions > Modules
Database table updated with inclusion of more columns
Optional Customer Comment input textarea added to capture customer comment
Records Quantity Selection by customer
Mobile validation: Minimum Allowed digits and Maximum allowed digits
Admin Setting Added : Enable / Disable Admin alert when customer subscribes for the alert
Admin Setting Added : Specify admin email address to receive notifications
Admin Setting Removed: Admin Email template setup removed
HTML template based Admin Email added
Detects if Google reCaptcha is enabled in admin. If disabled, enable captcha checkbox is disabled and grayed out.
Admin Setting Added : Authentication key for cron jobs
Language file updated to include more vocabulary for both admin and store front
Captures Customer IP Location
Added : Cross Origin Support
Added : Auto delete record for products that don't exists
Added : Export to Excel download option
Added : Notified Date fix tool
Added : Database table irregularities fix tool
Added : Charts added
Added : Product Image resize
Updated : Campaign tracking setup
Updated : Security of the extension to prevent SQL Attack
Fixed: Compare page bug
VERSION : 7.8.1
DATE RELEASED: 03 Feb 2017



Bug found while in email alert for product option.
Pagination fix for filters
Journal fix

Update extension from 7.8 to 7.8.1

Only overwrite the admin and catalog folder files. Do not replace XML files.



VERSION : 7.7
DATE RELEASED: 16 Aug 2016



OCMOD Version released
Compatiblity for OpenCart 2.3.x.x Released
VERSION : 7.6
DATE RELEASED: 05 Jan 2016



Shortcode added for customer email - {store_name} and {store_url}
Pagination for reports bug fixed for newer versions of opencart
VERSION : 7.5
DATE RELEASED: 25 Dec 2015



Store URL Tracking from customer end




Multi-store functionality improved




SMS HTTP API field removed




Automatic reload of admin report page removed




Notify popup form module removed




PHP File function or CURL function server check added




Bug fixed for "Alert record already exists"




Upgrade 7.0 to 7.5 function added